This content has been archived. It may no longer be relevant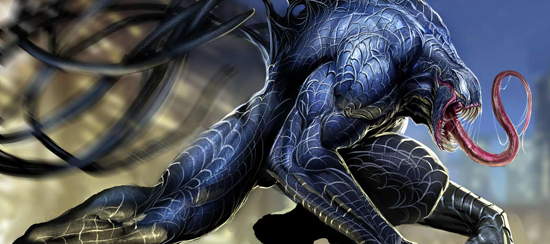 A lot of people want a Venom movie. Makes sense, I guess; he's fanged, evil, oozing, looks great on screen. While villains that are so specifically the mirror image of a hero don't do a lot for me, I see why people like the character. Sony likes the character because anything that can spin off from the success of Spider-Man is a good thing. The studio has been looking into making a Venom flick for a while, and they've now got a new draft in hand from the current writers. Where does that leave the movie?
Sci-Fi Wire talked to Zombieland co-writer Paul Wernick, who with his Zombieland writing partner Rhett Reese has been working on a new version of Venom for Sony. "We've written two drafts of Venom, and the studio has it, and they're pushing forward in whatever ways they push forward," Wernick tells the site. Doesn't seem like there's any way this can move forward before Spider-Man 4, but if nothing else let's hope that Sony is looking to emulate the work going on over at Marvel Studios. If Sony is smart, they're looking at Spidey 4 and Venom as connected, complimentary movies; whichever comes first should have repercussions in the other film.
Source: /film
Archived: Venom Script Turned In To Sony; Movie Still Kicking - archived