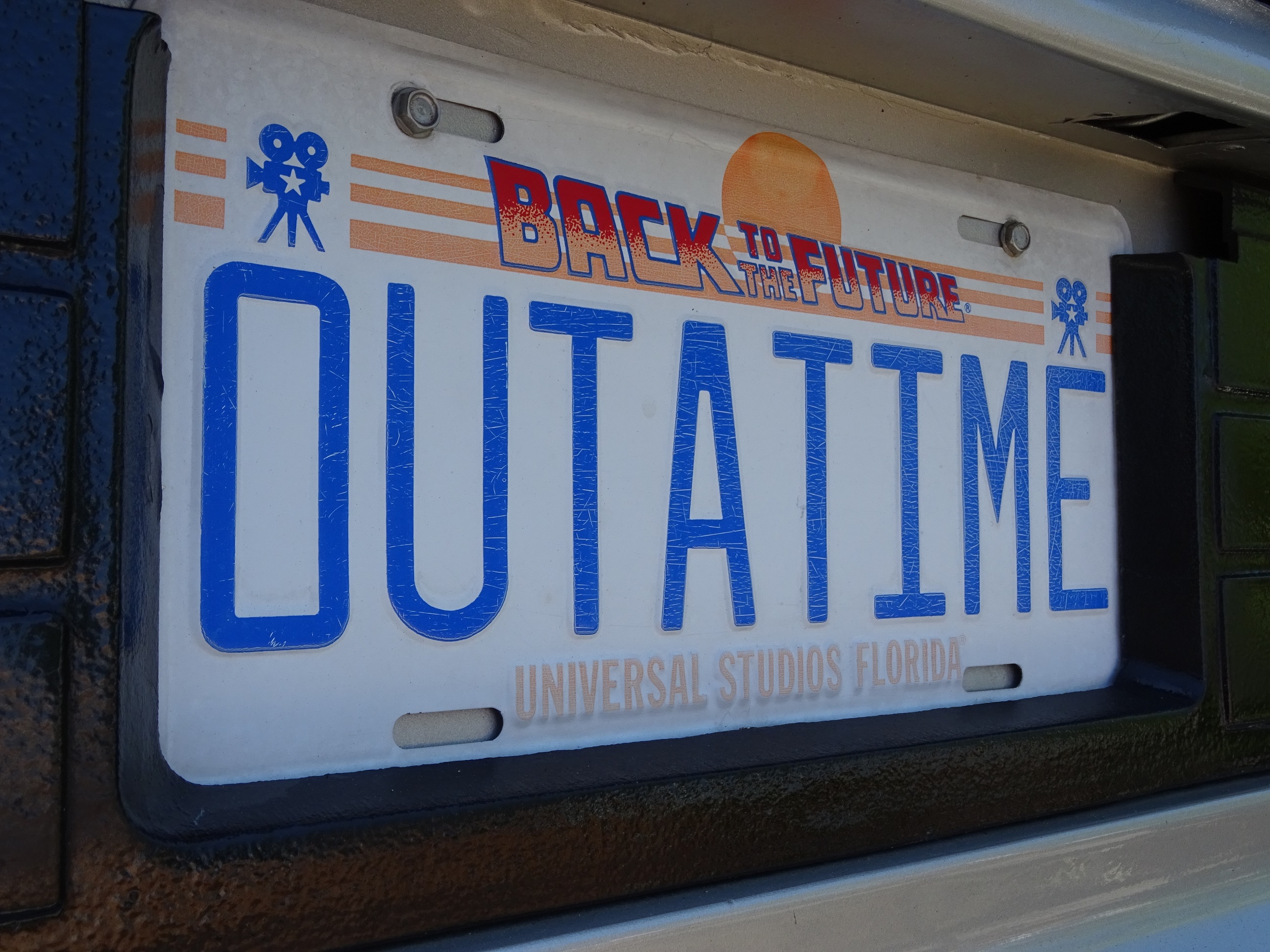 This content has been archived. It may no longer be relevant
For our final day we decided we'd stay on site and do both Universal parks one last time. We were up with the sparrows to head to Islands of Adventure for early admission. Straight to Hogwarts to ride Forbidden Journey and when it came to its end we were transported to the disabled access section. Oddly there was no one waiting to get on so we rode it again, bonus.
We cast some spells around Hogsmeade before jumping on the Hogwarts Express to Universal Studios where we waved our wand at more windows, including the two secret ones which impressed the other muggles around us. Gringotts wasn't working so everyone was stood around disappointed but we didn't let that stop us. We went for breakfast in the Leaky Cauldron, I had the oatmeal and fruit, Debora had the meat free pancakes. I also had the fizzy orange drink. The juice itself tasted like medicine but the cinnamon sugar rim saved it. I don't think the Leaky Cauldron is finished to as high a standard as the Three Broomsticks which is a shame.
We did the rounds outside Diagon Alley as the heat started to increase. First Men In Black and although advertised at a 5 minute wait, we were queuing at least 15. We overran on the locker but luckily the attendant let us off the three dollars when the wallet was locked away. Then it was onto The Simpsons and when we came out we bumped into Sideshow Bob so a photo had to be taken! More photos of the Delorean before waiting for Transformers. I still think that has the best 3D of all the rides.
With American Ninja still blocking most of the park we navigated our way to Twister to ride something that probably won't be around the next time we come back. It's so out of date I don't think I'll miss it, but I will miss Bill Paxman and Helen Hunt pretending to talk to each other with their hands held firmly on their hips. Onto The Mummy before getting our picture with Megatron. Final time on Shrek before heading back to Diagon Alley to ride Gringotts which was now up and running. The advertised wait time was 30 minutes but the queue went on for many twists and turns outside the rear of the bank, we'd never seen this part of the queue before! The line did move swiftly but I can't imagine waiting any longer for that ride. After, it was across to Islands of Adventure on the Hogwarts Express.
We didn't stay in the other park, quick trip to the gift shop for some more badges for Debora's new collection before heading through the stifling heat – now up to 34 degrees – to have lunch at Cowfish. This is a fusion of sushi and burgers, the vegetarian options are limited but we knew that going in. Debora had the vegetarian sushi that she'd been waiting for months before we flew and I had the vege-burger. We were both disappointed. My burger had no taste and Debora's sushi tasted of onions. We thought we'd have to have a pudding to make up for it so went for the Yummi-Rolls, they were described deliciously after all. But these too were a bit of a disappointment, it was a collection of marzipan with a side of strawberries. Odd. Sadly, the best thing about Cowfish was the chance to make your own fish for the aquarium on the computer screens.
Back at the hotel to cool off we studied our purchases and I called to see if there were any lanes to bowl in. Our luck was in! Here you pay by the hour rather than the game so we had a whole hour to fit in as much bowling as we could. We managed three rounds and three frames and left with arms aching and fingers in tatters. Quick trip to the arcade where the most fun was had on the basketball game before we decided to call it a night. Our last day over, we fly tomorrow night. Farewell Orlando…
Archived: The Holiday Blog – Day Fourteen: Final Universal Day - archived